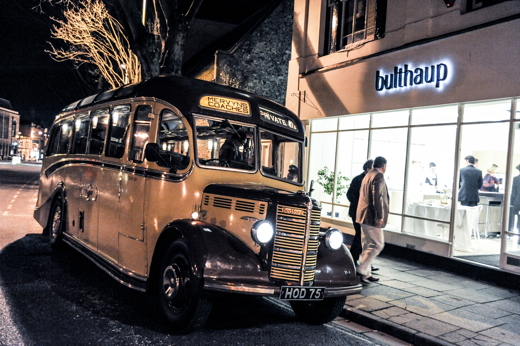 Authorized bulthaup partner

Stewart Carr design

1 The Broadway

Winchester

Hampshire

SO23 9BE

Tel. +44 1962 849000

Fax +44 1962 849009
Our Events
We hold a variety of events in the showroom and at other locations. These are always welcoming, often cookery related, and allow you to see bulthaup kitchens in use. If you would like to know about future events let us know by email or by phoning 01962 849000. Some of our past events are shown below.

Introducing bulthaup's new Solitaire
Event date: August 2014
Location: via durini milan
It is always good to hear a CEO endorse their products and the really nice thing about Mark Eckert, our CEO, is the genuinely personal manner in which he explains the latest product – the flexible Solitiare unit. Well worth watching for his gentle passion for bulthaup!
Map
Posted by: Lesley Carr

Winchester team at bulthaup party in Milan
Event date: 7 April 2014
Location: via Durini, Milan
Can you spot Stewart, Lesley or Juliet at the bulthaup party in Milan? We certainly had a good time, and came back with new ideas and designs to share with our clients.
Posted by: Author unknown

bulthaup Winchester hosts Mark Jordan 'cook-along'
Event date: 18 May 2014
Location: bulthaup kitchen showroom Winchester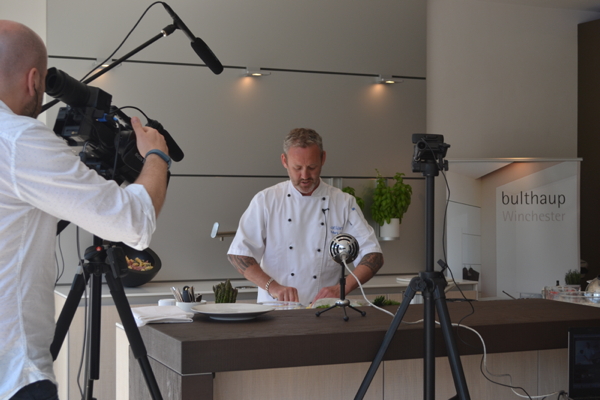 "It was like having a Michelin chef in your kitchen at home," said Lesley Carr, after the cook-along in the bulthaup kitchen showroom.
It was a technology first for us, with our friend TV chef Mark Jordan, live-streaming an hour's cook-along showcasing Jersey Royal potatoes. We have worked with Mark before on Jersey, providing a kitchen for his Master classes at The Atlantic Hotel , where he is Executive Chef of the Michelin-starred Ocean Restaurant, and at his bistro Mark Jordan at the Beach.
The live-streamed cook-along was a joint exercise between us at bulthaup Winchester, Great British Chefs and Jersey Royal potatoes. Viewers had been encouraged to buy the ingredients for the recipe, pan-roasted fillet of salmon with marinated Jersey Royals and dill and crab salad, beforehand. They were then able to cook the dish at home, helped by Mark, who is a regular on James Martin's Saturday Kitchen, and learn expert skills and tips.
We were really pleased that we were chosen for the event. Mark was keen to use a kitchen with the look, feel and scale of a domestic kitchen so that those at home had similar appliances and utensils. The bulthaup b3 textured oak kitchen he used is a domestic kitchen and everything Mark used was something you could have at home. He has told us before that bulthaup kitchens are made for cooks and chefs, so all went well.
If you are interested in finding out how to cook the recipe, the hour-long session will be edited into a four minute video and available from this website soon.
And you can see Mark eating the dish he prepared below.
Map
Posted by: Lesley Carr

Mark Jordan tucks into the delicious dish he has cooked
Event date: 18 May 2013
Location: bulthaup kitchen showroom, Winchester, Hampshire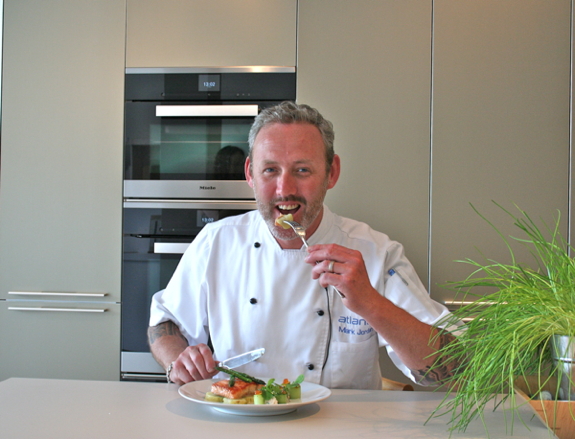 It was great to see Mark tuck into the delicious salmon, Jersey Royal potatoes, crab salad and asparagus he had prepared in the showroom. We all enjoyed catching up with Mark who we normally see on Jersey when we are meeting our Channel Island clients
Map
Posted by: Lesley Carr

New bulthaup kitchen design unveiled in Milan
Event date: April 7 - 13 2014
Location: Milan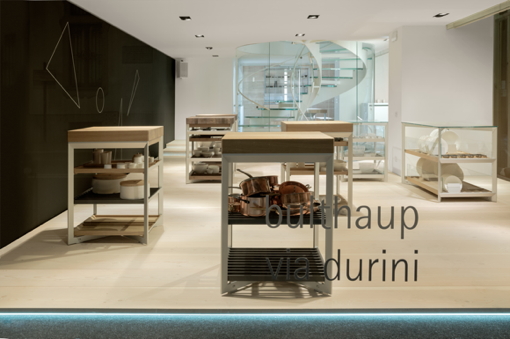 Stewart, Juliet and Lesley were in Milan last week to see the latest kitchen design ideas from bulthaup and other brands. It is always an exciting and inspirational place to be, with experienced professionals and new young designers putting their latest ideas on show – whether in the salubrious surroundings of the Fiere (Exhibition Halls), or in a side street of Zona Tortona.
As usual, bulthaup surprised us all. Every other kitchen showroom was full of complete kitchens. Bulthaup chose instead to simply display their latest innovation – 'Solitaire' – a free-standing modern interpretation of the butcher's block or pot stand, but with far more style and multiple functions.
Solitaire comes with a wide choice of elements, allowing for food preparation, storage of utensils, pans, spices, presentation of your most treasured kitchen and dining items and more – bulthaup kitchen design at its best.
Whilst our Winchester kitchen showroom does not yet have a Solitaire unit to show you, we do have plenty of images and a beautiful booklet. We hope to be able to take orders for Solitaire in the summer.
Map
Posted by: Lesley Carr

10 Years of bulthaup in Winchester
Event date: 3 April 2014
Location: bulthaup Winchester showroom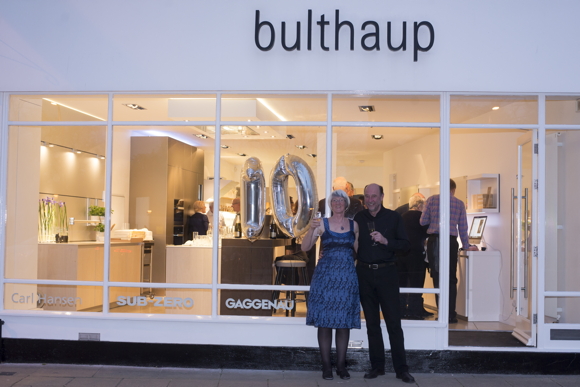 It's said that the best parties always end up in the kitchen. We hope we trumped this by holding our 10 year anniversary celebration party in the Winchester kitchen showroom on The Broadway, Winchester.
We invited lots of members of "The bulthaup owners club" to join us. Bottles of Louis Roederer Champagne were popped and delicious canapés were served while a jazz pianist played.
Thank you to all who came and helped us celebrate, including the Mayor of Winchester, who helped Stewart to cut the special '10 years' cake.
Stewart said: "It's been ten years and over 250 beautiful kitchens; each bulthaup kitchen is different and we're proud of every single one of them," before rising a toast to the next ten years of being a design led business.
Map
Posted by: Lesley Carr

Tom Kerridge and bulthaup Winchester in Dorset
Event date: 10 February 2014
Location: Chewton Glen Hotel and spa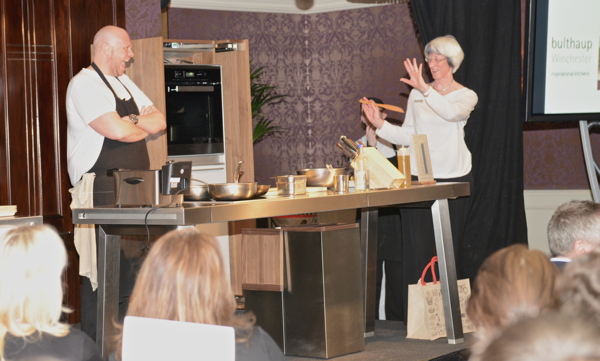 On February 10th we had a wonderful culinary time at another of the events in partnership with Chewton Glen. This time Tom Kerridge, chef and owner of The Hand and Flowers, Marlowe – the only pub with two Michelin stars – entertained us at two cookery demonstrations, cooking on the bulthaup Winchester b2 kitchen with Miele hob and oven. We all leant the trick of thrice cooked chips, how to create a delicious meal from broccoli stalks and ham, and the simplest method of slow cooked rib of beef and I have ever seen. About 250 people were inspired by Tom, and also enjoyed the best of Chewton Glen dining.
Tom was amazing – entertaining and self-effacing, approachable and knowledgable.
Watch this space for the next in the famous chef and bulthaup series – another three at least in 2014. If you like cooking and enjoy good food, contact us or Chewton Glen to know what is on next.
And if a bulthaup b2 kitchen might be for you, see it in our showroom
Map
Posted by: Lesley Carr

bulthaup tops luxury German kitchen rankings
Event date: 10 February 2014
Location: bulthaup Winchester showroom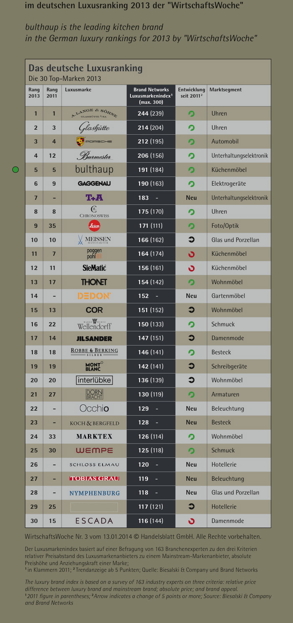 bulthaup Winchester are proud to see bulthaup again identified as a top five luxury brand by Germany's economics and business magazine WirtschaftsWoche. The magazine ranks the top 30 German luxury brands and shows bulthaup top of all kitchen manufacturers, above other brands like Poggenpohl and Siematic whose rankings slipped down the list.
This time bulthaup significantly increased its score to hold fifth place for a second time running, behind leading names from the watchmaking and auto-motive industries. Gaggenau appliances came sixth in the list – a brand often specified by bulthaup Winchester in their designs.
You can see here one example of a small luxury bulthaup kitchen with some Gaggenau in a Winchester Victorian villa.
Posted by: Lesley Carr

Bulthaup showroom hosts Christmas network
Event date: 9 December 2013
Location: 1 The Boroadway, Winchester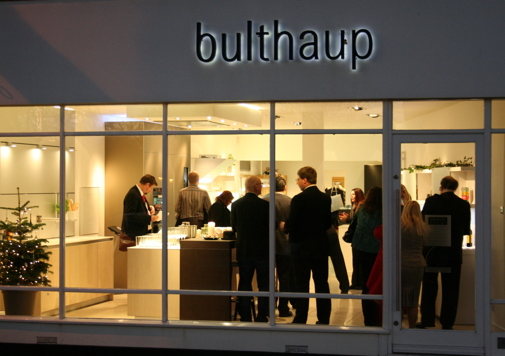 Bulthaup Winchester were delighted when the Hampshire Chamber of Commerce asked to come to our kitchen showroom for their Christmas networking event. It was a chance for us to say thank you to many of the other Hampshire businesses who have hosted events over the past few years and to help business friends start getting into a festive mood.
With bulthaup being a German kitchen brand, made in Bavaria, we decided to have a Bavarian theme to the food and drink. Pieter, our young kitchen designer, became king of the gluhwein for the evening – a delicious version of mulled wine.
Our Winchester kitchen showroom came to life with the Miele ovens and Gaggenau hobs in use to prepare a range of eats from bratwurst to lebkuchen.
The forty guests had a great time networking amongst the bulthaup kitchen displays, forging new relationships and exchanging business cards.
Map
Posted by: Lesley Carr

Pieter du Toit joins the team as kitchen designer
Event date: 1 November 2013
Location: bulthaup Winchester showroom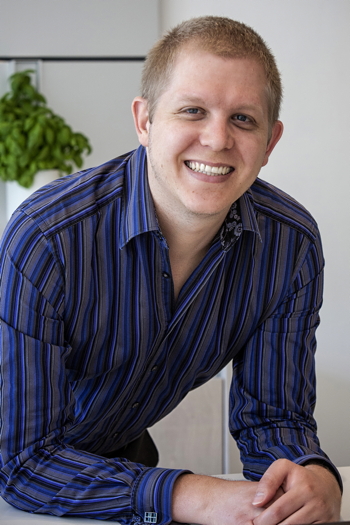 We are delighted and proud to announce that Pieter du Toit, who joined us as a design intern in 2013, has been promoted to be a full member of the design team. Pieter came to the UK from South Africa 10 years ago. He worked to earn the fees for a degree course in Interior Design, and joined us soon after graduating, initially to cover Sharon's maternity leave.
His design skills were quickly apparent, and his enthusiasm for learning from senior kitchen designer Stewart Carr has meant that he is now a competent and knowledgeable designer with a lovely approach to his clients.
If you would like to discover Pieter's ideas for a bulthaup kitchen design in your home, call or email to make an appointment to see him.
t. 01962 849000 e. Pieter@bulthaup-winchester.co.uk
Map
Posted by: Lesley Carr

Luxurious new Sand Beige aluminium
Event date: from 28 October 2013
Location: bulthaup showroom, Winchester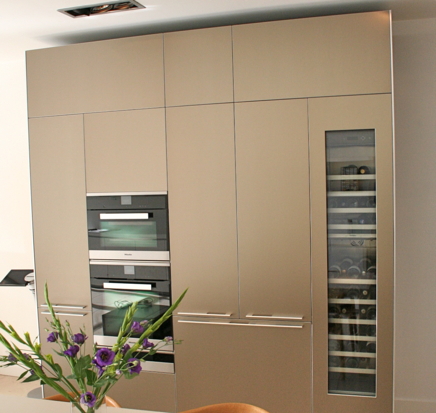 We are proud to now have on display another of bulthaup's latest beautiful materials – the Sand Beige aluminium with natural aluminium edges. Winchester is leading the way again, being one of a small number of bulthaup showrooms worldwide to show this finish.
It is shown as a tall run of units, housing Gaggenau Vario fridge freezer and wine cannot, plus the latest Miele oven, steam oven and warming drawer. All of these are fully working.
Sand Beige is in bulthaup's price group 5 (out of 8), so towards the higher end in both quality and price, and immensely good value as it will look beautiful for years.
We welcome everyone to the bulthaup Winchester showroom to see and touch it – it won't show your fingerprints – one of the wonders of aluminium.
Map
Posted by: Lesley Carr

Let's Do Steam
Event date: 22 October 2013
Location: bulthaup Winchester showroom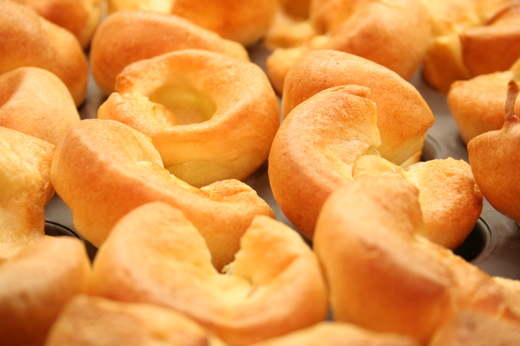 A tasty, informative and fun time was had by both groups who came to the two Let's Do Steam events at the bulthaup Winchester showroom. Joanne and Susan from Miele showed us how versatile the steam combi oven can be, producing rolls, soup, salmon, rice and vegetables, followed by berries in Cassis and a sponge.
The whole menu was cooked in Miele steam ovens, with a little help from a hob to start sue of them off.
And then a real surprise – a whole fillet steak cooked in a warming drawer, served up with some of the most delicious yorkshire puddings ever – cooked, amazingly, in a steam combi oven.
Everyone enjoyed the wine, the food, the ambience, and the new ideas.
Map
Posted by: Lesley Carr

Come and see the new bulthaup display
Event date: Now
Location: bulthaup showroom, Winchester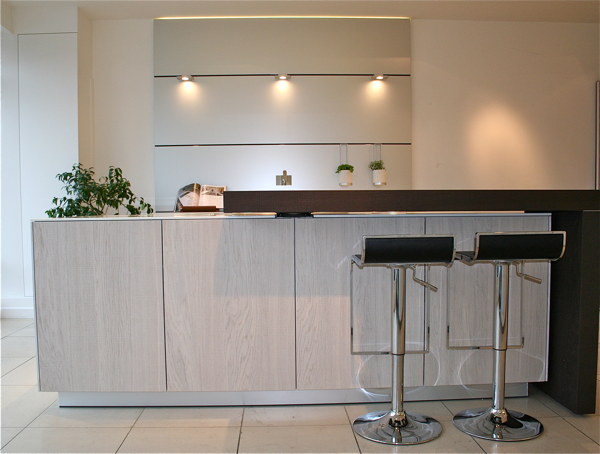 Be one of the first in the UK to see the new bulthaup structured oak kitchen. bulthaup in Winchester are proud to be amongst the first in the world to have several of bulthaup's new ideas on display.
The structured oak finish is an interesting way forward with wood. Come and feel the texture, see the colours, and hear about the quality.
At the same time you can see bulthaup's new ideas for flexible storage – their new prism system – a completely revolutionary way to keep kitchen drawers tidy!
You are welcome to browse alone, or ask for a 'tour', any time between 9 and 5 Monday to Friday, or 10 and 5 on Saturday.
Map
Posted by: Lesley Carr

Sponsoring Penguins Swimming Gala
Event date: Friday June 7th 2013
Location: Winchester Leisure Centre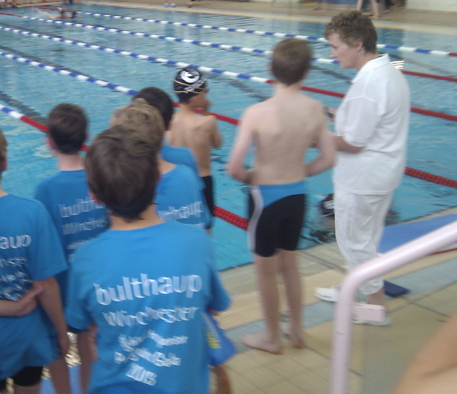 One of the most enjoyable events of our business year is the day we sponsor Penguins Primary School Swimming Gala in Winchester. The energy and excitement in the atmosphere from hundreds of young swimmers is wonderful.
We were very proud to be a small part of this event, encouraging children from all schools in the Winchester area to be part of their swimming team.
Well done to all the organisers, and all the participants.
Posted by: Lesley Carr

Come Dine With Us
Event date: 14 March 2013
Location: bulthaup showroom, Winchester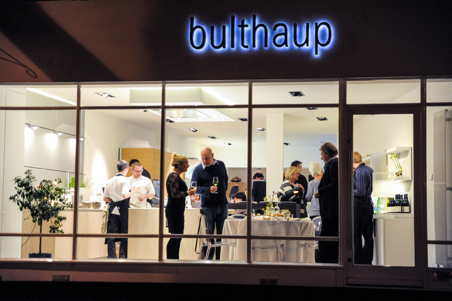 March 14th saw the first of our joint events with other Winchester 'luxury lifestyle' businesses Bang & Olufsen and Justice Jewellers. It was a dining experience with a definite difference. Twelve specially selected client couples were invited to start their evening with a champagne reception and canapés at Bang and Olufsen. After a pleasant hour they were asked to board a 1949 coach and travel in style the 300 yards to our bulthaup showroom. Here they were met by Michelin star chef Alan Murchison who had been busy cooking their main course in a bulthaup kitchen. The showroom was transformed into a restaurant, complete with white table linen, flowers and candles! Once everyone had eaten their fill the bus transported them to their final destination, Justice Jewellers, for desserts, cheese, port and wine. It is fair to say that a good time was had by all and we look forward to inviting more of our very special clients to a similar event later in the year.
Map
Posted by: Lesley Carr

James Martin with bulthaup
Event date: February 11th 2013
Location: Chewton Glen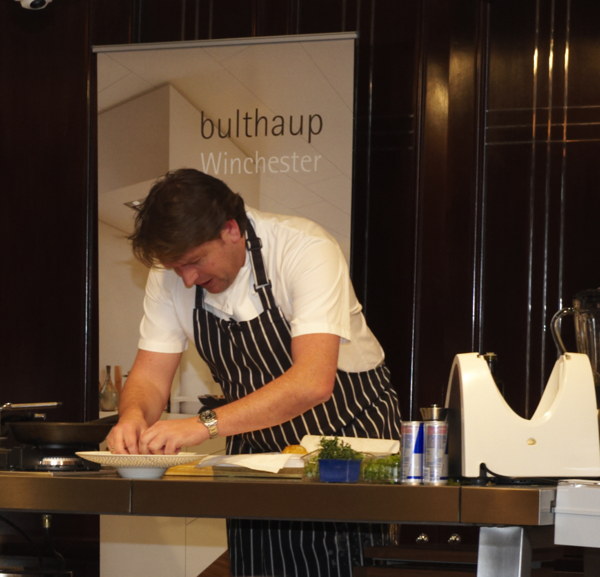 bulthaup Winchester were delighted and excited when Chewton Glen rang and asked if we could provide a high quality kitchen for James Martin to use. James was booked to do two demonstrations in front of 120 people, so the quality of the kitchen and its equipment was of paramount importance.
We took along two bulthaup b2 workbenches, including a Miele gas hob, and a walnut cabinet to house the oven and fridge. All was carefully and precisely set up on a stage by Ben, one of our experienced bulthaup fitters.
James was more than pleased with the result, and the audience was pleased with his demonstration of four dishes, entertaining patter, and the meal they ate afterwards.
Whilst James was busy signing books for many of the audience, several came to talk to Lesley and Juliet from bulthaup Winchester to find out more about the kitchens we design and install across the South and the Channel Islands.
All in all, a very good day.
Posted by: Lesley Carr

Jersey Food Festival
Event date: Saturday 18 May - Sunday 26 May 2013
Location: All round Jersey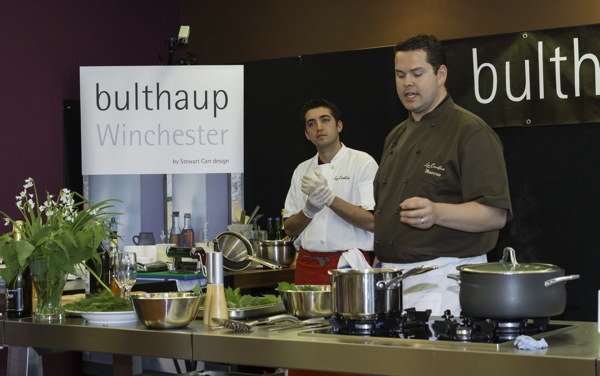 We are excited to again be part of the Jersey Food Festival, for the third year running, and are sponsoring the 'bulthaup b2 kitchen theatre' for chef's cookery demonstrations and master classes.
From Saturday 18 May to Sunday 26 May there will be plenty of activity linked to Genuine Jersey products all around the island. This includes the bulthaup kitchen theatre where a series of top local chefs will be on stage demonstrating their ideas for cooking Jersey produce. For example Saturday 18 May will see a Master Class from Mark Jordan at The Atlantic Hotel
It's also a chance to fnd out a little more about bulthaup kitchens and the service that we provide to the Channel Islands from Winchester.
Have a look at www.jersey.com/foodfestival
Posted by: Lesley Carr

hobsons|choice acquires Stewart Carr Design, bulthaup Winchester
Event date: 13.11.2014
Location: Winchester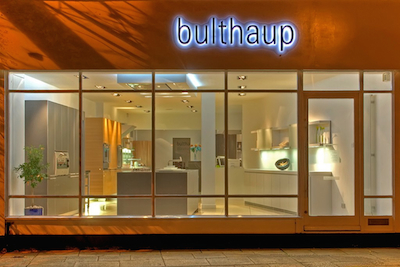 Wiltshire based luxury kitchen and bathroom design and installation company hobsons|choice today announced that it has completed the acquisition of Winchester-based bulthaup kitchen dealer, Stewart Carr Design.
The acquisition supports the hobsons|choice vision to become a customers first choice for bulthaup kitchen design and installation. The new showroom, and experienced Design team, will help accelerate growth and secure hobsons|choice as a key independent bulthaup retailer in the South of England.
"I have always admired Stewart's (Carr) ethos and the way he conducts his kitchen design and installation business. It is very similar to the way hobsons|choice approach design, with the focus on the customer, attention to detail and an exceptional level of customer service.
The new Winchester bulthaup showroom means we are ideally placed to service clients along the south coast, Channel Islands and the counties of Surrey and Sussex." said Richard Carter, hobsons|choice Owner and MD.
The hobsons|choice business has continued to flourish and grow since Richard purchased the company in 2007. The established hobsons|choice bulthaup kitchen and luxury bathroom Swindon showroom has been joined by bulthaup Bath in 2012 and now bulthaup Winchester in 2014.
Richard added, "These are very exciting times at hobsons|choice and I look forward to welcoming all of the Winchester Design team into our friendly, passionate company."
Map
Posted by: Author unknown

James Martin at Chewton Glen Event
Event date: 10.11.2014
Location: Chewton Glen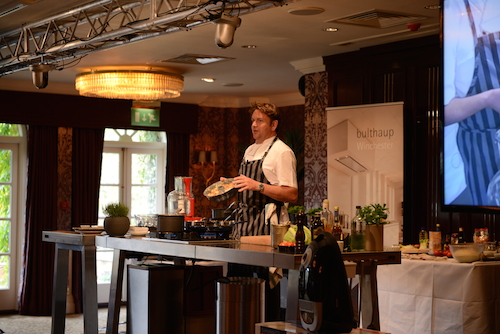 On Monday 10th November 2014, bulthaup Winchester supported the Chewton Glen Hotel and Miele by providing a bulthaup b2 demonstration kitchen for the celebrated tv chef, James Martin to demonstrate to a live audience.
With nearly 300 guests across the lunch and dinner events, James entertained us with his great Yorkshire humour and the usual simple but delicious dishes. His aim was to encourage all of us to not be frightened when trying new recipes when cooking.
James' first creation was a take on couscous by using a crumbled cauliflower, served with tomatoes, chicken and a host of wonderful fresh flavours. The dish was started on the hob in very hot grill pan, which was soon transferred to the Miele oven to enable the deliciously sticky maple syrup to reduce and coat the chicken thighs.
We were then shown how to make an inviting crab salad with pickled radishes, fennel and cucumber, accompanied by a flamed fresh fillet of mackerel. This recipe was prepared so quickly, and very simply, that there really isn't an excuse not to have a go at home when next hosting a dinner party.
The key tool for perfectly creating this dish will be a blowtorch (James highly recommends that you invest in a builders merchant caliber blow torch and not those sold in cookshops). The complete dish took no longer than 10-15 minutes and yet was absolutely scrumptious to look at as well as taste.
James' own version of Welsh rarebit was next on the demonstration menu using locally sourced, naturally smoked haddock. The recipe was simplicity itself and many male guests could be heard openly discussing their plans to impress their better halves by having a go at home. To finish, the smoked haddock, was presented on a bed of tomatoes which had been dressed with a fresh chive oil and mixed herb dressing.
Lastly we were privileged to hear about one of James new recipes that he has acquired from his travels in America, called 'Monkey bread'. Before you ask, no he doesn't know why it is called this but once you have the opportunity to taste, you really won't mind – its delicious!
It is prepared in a similar fashion as a to a wet bread dough, left to rise before being placed in a hot oven for approx. 25-30 minutes. The construction of this dessert, means that it is designed to be eaten by pulling off dough balls (now cooked of course) and dipping them into a homemade Snickers ice cream.
When the 'Monkey bread' comes out of the oven, it has to be allowed to rest for a short time after which, it is drizzled in with maple syrup and honey to coat the dough. After a short time you can turn this out and pick-away at your hearts content!
The accompanying Snickers ice cream appeared to be a little more involved and required the use of more 'specialised' ice cream making appliances. Anyone attempting the 'Monkey bread' recipe could be forgiven for perhaps cheating and buying an equivalent in the shops. Leaving a fresh tub from the supermarket at room temperature for a few minutes before serving would make the consistency softer and perfect for dipping!
After each demonstration, James would disappearred into the hotel kitchens to help prepare the 3-course lunch and 4-course dinner for the numerous guests.
At lunchtime, guests enjoyed a starter of Lobster Risotto, followed by a trio of Duck with seasonal vegetables and James' renowned Sticky Toffee Pudding with ice cream.
The evening dinner guests enjoyed an additional tantalising entrée course of freshly seared tuna with sesame and pickled radishes, fennel and cucumber.
To top off each dining session Miele kindly provided vacuum cleaners to be won in a prize draw. Two lucky guests went home extremely happy as they managed to also get James to sign their prizes!
bulthaup Winchester supplied a b2 kitchen for the event which is a signature piece for bulthaup and works well as a demonstration kitchen for many chefs that we have been privileged to work with over recent years. The b2 on show included two workbenches with stainless steel, stone and walnut worktop modules. These housed a gas hob on the day but can be adapted to also include sinks and other type of surface appliances.
The oven and fridge were supplied by Miele and housed in one of our single b2 walnut cabinets, which are designed to compliment any space. If you are not keen for your appliances to be on full display they can be hidden away by simply closing the door cabinet door.
The event was a great success and we look forward to supporting Chewton Glen in 2015.
Map
Posted by: Author unknown

New Year New Look
Event date: 9.12.2014
Location: Winchester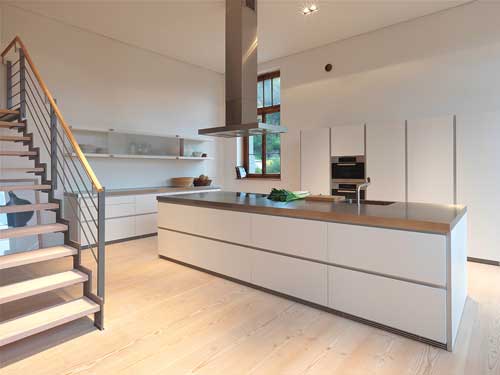 Making the decision to start planning a new home improvement is often the hardest step in the process. The holiday period between Christmas and New Year is the perfect time to consider a change.
The last cracker has been pulled, the champagne glasses have all been put away and the Christmas jumper has been retired to the back of the wardrobe for another year. It is the week between the 'big' day and New Year, a time of unusual quiet for many without the day-to-day stresses of work. Plans begin to form, large projects and ideas that have been waiting for your attention rise again and decisions can finally be made.
Changing the design of one's living space, whether kitchen or bathroom, is very much a decision that cannot be concluded without in-depth consideration and detailed research. What do you want from a new design? What do you like and dislike about the one you currently have? Who would you trust to create and fit a new space that meets your requirements?
If you are ready to answer these questions then it is time to venture out into the wide world and speak to experts who can assist you in focusing your ideas and thoughts. By talking openly to a good Kitchen or Bathroom Designer about your home, your lifestyle and what you want the space to feel like will enable them to create a space meets your desires. They will offer their expertise, guidance and ideas, which will often open your eyes to completely new ways of planning the space.
Getting a project that reshapes your home started is typically the hardest part of the process. It involves a leap of faith. Once you find the right style for you, a Designer who understands your requirements and a company that can match the precision CAD renders with 'real life' installation craftsmanship then 2015 will be a year that you never forget.
Posted by: Author unknown

Point Line Plane Glassware Launch Event
Event date: 23.04.2015
Location: hobsons|choice Winchester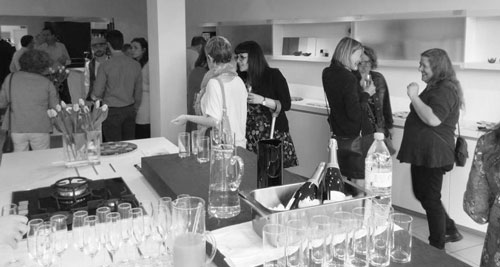 To launch a new range of glassware, Hampshire artist Alex Hoare, revealed her new Point Line Plane Glassware range at our Winchester showroom. Guests viewed pieces from the new range whilst enjoying a glass of wine and canapés created in the bulthaup b3 working kitchen by local Chefs.
The Hampshire Chronicle covered the event and wrote the following article:
'A HAMPSHIRE-born artist has launched a new business venture producing crafted glassware, Tate Slyfield writes.
Former Colour Factory artist Alex Hoare's new range, Point Line Plane Glassware, is aimed at homes or businesses.
Ms Hoare has been working with glass since 2006 by changing colours and textures of natural light into simple geometric patterns and designs.
The philosophy behind Point Line Plane Glassware – named after Russian artist Wassily Kandinsky – is to extract colours, light and textures from some of Ms Hoare's favourite places including Hampshire and West Cornwall. After working for Test Valley Borough Council, she wanted to return to her studio to which the city council has provided £1,000 in start-up grants to help pay for marketing and photography.
Ms Hoare, who received a business start up grant from Winchester City Council, said: "My work as an artist in the past has often relied on public funding. With the cuts to public funding it has become necessary to look for alternatives to make a living."
Now Ms Hoare is showcasing her newest designs with a range of exhibitions.
A selection of work is part of the Fusion exhibition at Rum's Eg in Romsey until May 2. The same range will be on display at Hobson Choice Bulthaup in the Broadway until mid May.'
To read the rest of the article click here.
The hobsons|choice Winchester team would like to thank everyone who took the time to come along and make the launch event the success it was.
Map
Posted by: hobsons|choice Winchester

Rimadesio - Milan Furniture Show 2015
Event date: 01.05.2015
Location: Milan, Italy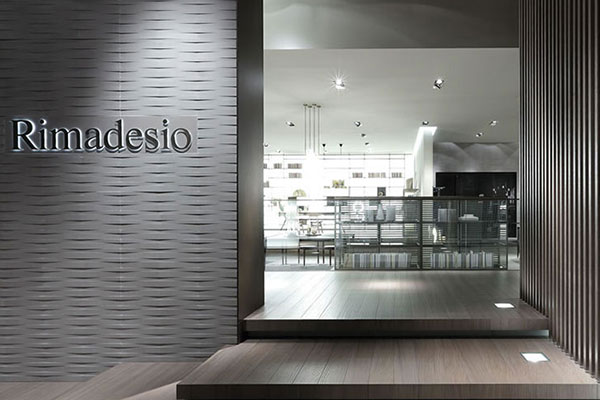 Richard Carter, hobsons|choice MD, recently visited the Milan Furniture Show to experience the new Rimadesio collection for 2015. The new range of doors, furniture and storage solutions continue the brand's established reputation of quality, precision and beautiful design. To view images from the new 2015 collection visit the hobsons|choice website here.
As bulthaup Winchester is now a hobsons|choice showroom, products from the Rimadesio are available in addition to our luxury bathroom design and installation service. To find out more about what hobsons|choice can offer visit our company website here www.hobsonschoice.uk.com
Posted by: Author unknown

New Project Photography
Event date: 08.05.2015
Location: Swindon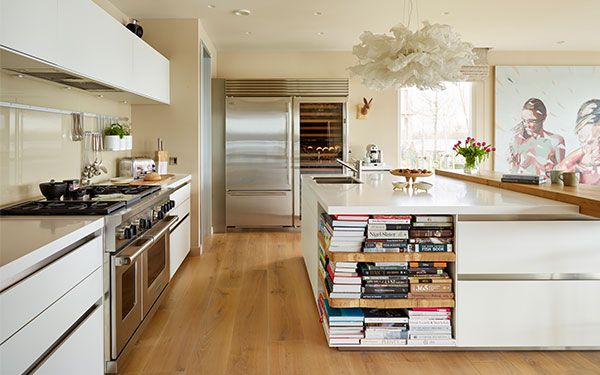 Whilst we put the finishing touches to the full 'Project Write-ups' of our recently photographed projects, the images by Darren Chung are just too good not to let you see. In the coming weeks each project will each get a full page feature on the hobsons|choice website detailing the meticulous design and installation craftsmanship that went into creating the bulthaup kitchen or luxury bathroom.
For now, the images are here to admire and inspire.
Map
Posted by: Author unknown

Showroom: bulthaup Winchester, 1 The Broadway, Winchester, Hampshire, SO23 9BE
Telephone: 01962 849000 | enquiry@bulthaup-winchester.co.uk
A hobsons|choice bulthaup kitchen showroom - www.hobsonschoice.uk.com